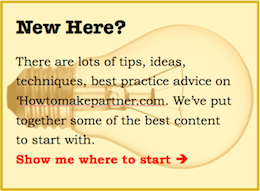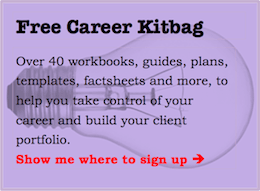 Welcome to 'How to make partner'.
We're Jo Larbie & Heather Townsend and we've been helping professionals successfully take the step up to partner for the last 20 years. This is where our team release insights and tips, to help you take control of your career and achieve your potential, whilst still having a life.
About Us→
Recent posts
I've just done something very stupid. Yes, incredibly stupid. I have asked my coach to inflict pain on me on a daily basis over the next 14 days. Seriously. The problem is, (deep breath for confession time) I have let myself get disorganised. I've had the luxury of not having a boss for the last [...]
The Excedia Group
The Excedia Group Ltd brings clarity, perspective and knowledge to professionals and business owners to help them achieve their business goals. 'venture-Now', 'The Executive Village', 'The Efficiency Coach', 'Heather Townsend' are trading names of The Excedia Group.
The Excedia Group Ltd is a company registered in England and Wales; Company Number: 7448839
Registered Office: Home Ground Barn, Pury Hill Business Park, Alderton Road, Towcester, Northants, NN12 7LS