How many of us have wondered from time to time how much a partner in the Big 4 earns? I.e. what is the average partner drawing for the Big 4? In this blog post we take the publicly available information, to give you an idea of actually how much the big 4 partners really do earn.
It has been reported recently, following KPMG filing it's company accounts at companies house for the year ending in Sept 2012, that the partners at KPMG in the UK had suffered a drop in profits – from £682k per partner to £568k per partner. That may be a £100k drop in partner drawings per partner, but hey, I'd still like to earn over half a million pounds in a year.
At Deloitte, from their annual reports for the year ending May 2012, the average partner drawings is a staggering £789k, which is up from £758k in the previous year.
At PwC, partners in the UK have seen their average drawing falls from £707k to £697k (according to annual report for year ending June 2012)
As E&Y don't seem to publicly report their UK (or global) member's drawings (what they pay their partners each year), it's rather difficult to gauge how much the average E&Y partner in the UK earns. From my back-of-envelope calculations the average partner drawings at E&Y is going to be between £500k and £1 million.
Download our free 13 tips and 6 page guide to progressing your career in a Big 4 firm to help progress your career in a Big 4 firm
It seems slightly churlish to mention this, but the profit per equity partner or PEP for the magic circle firms is over £1m.
If you are thinking about joining a big 4 firm, progressing your career in a big4 firm, or even getting them as a client, then 'How to make partner and still have a life', will be an invaluable guide to understanding how these firms tick and how to progress your career in the firm.
Now remember that these partner drawings are not what ends up in the take home pay of a partner. Firstly, any interest or repayments on their partnership loans, on their capital they were required to put into the partnership, is taken out. They will almost definitely put in payments to a pension pot. Then finally, they will pay income tax as a self-employed person.
These yearly earnings for the Big 4 and Magic Circle partners may seem very attractive to you. However, do remember that these large firms will often take a pound of flesh in return for these large fiscal rewards. As one of my network said to me,
I realised if I had made partner at E&Y, there would always be three people in my marriage
What if I want to join the Big4 as a senior manager or director?
The Big 4 do hire people in at the senior grades – even lateral hires directly into partnership. However, if you are thinking of making the transition into a big 4 firm at a senior grade, you will need to bring something to the party. Typically you will need to show them a business case which articulates how your skill set will help them achieve their business unit strategy, plus how you will bring in clients which will quickly amount of £1million+ in fees. You will need both – the potential for a large client portfolio, AND a technical skill set which they need, if you want to join a big4 firm at a senior manager, director or partner level.
Download our free 13 tips and 6 page guide to progressing your career in a Big 4 firm to help progress your career in a Big 4 firm
Author Credit: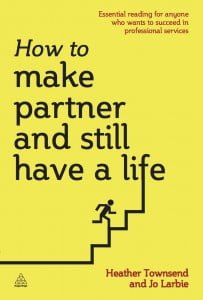 Written by Heather Townsend. I help professionals become the 'Go To Expert'. I am the co-author of 'How to make partner and still have a life' and the author of the award-winning and bestselling book on Networking, 'The FT Guide To Business Networking'.
To find out whether I can help you read 'is this you'